We have never been endorsed, sponsored, or kicked back a damn thing. From anyone. Ever. So, if we are doing gear reviews you can rest assured that, unless otherwise specified, we got that gear just like you would. By going to a job, getting paid some money, and spending that money on some stuff we read about online. It's also no coincidence when a group of dudes who all do their due diligence in research are interested in the same thing. That's a pretty fair indicator that whatever we are looking at is a pack leader. A standout option in whatever field we are shopping in. We hope this Forma Terra
Boot Review shows you how much we love this equipment.
Now to be clear here, we are not motocross racers.
Never once have I entered a real race of any kind to honest. I've never aired out a triple in my life… because I can't. But none the less, no matter where or how you ride, it's very easy to seriously F up your feet riding off road. So as we began to gain interest in the arena of dual sport riding, or adventure touring as it's often called, all of us knew it was wise to invest in good boots.
There were a few features that we were looking for in particular and some of those features actually thinned the pack of available options quite a bit. One being that we wanted fully waterproof boots. Believe it or not, not a lot of competition in the high quality, fully waterproof adventure boot department. We also wanted something that offered a good amount of protection, but we would be able to wear for extended periods of time with out a lot of fatigue from the boot's stiffness.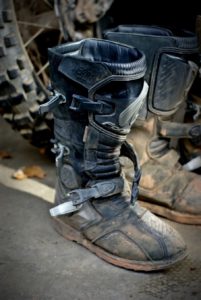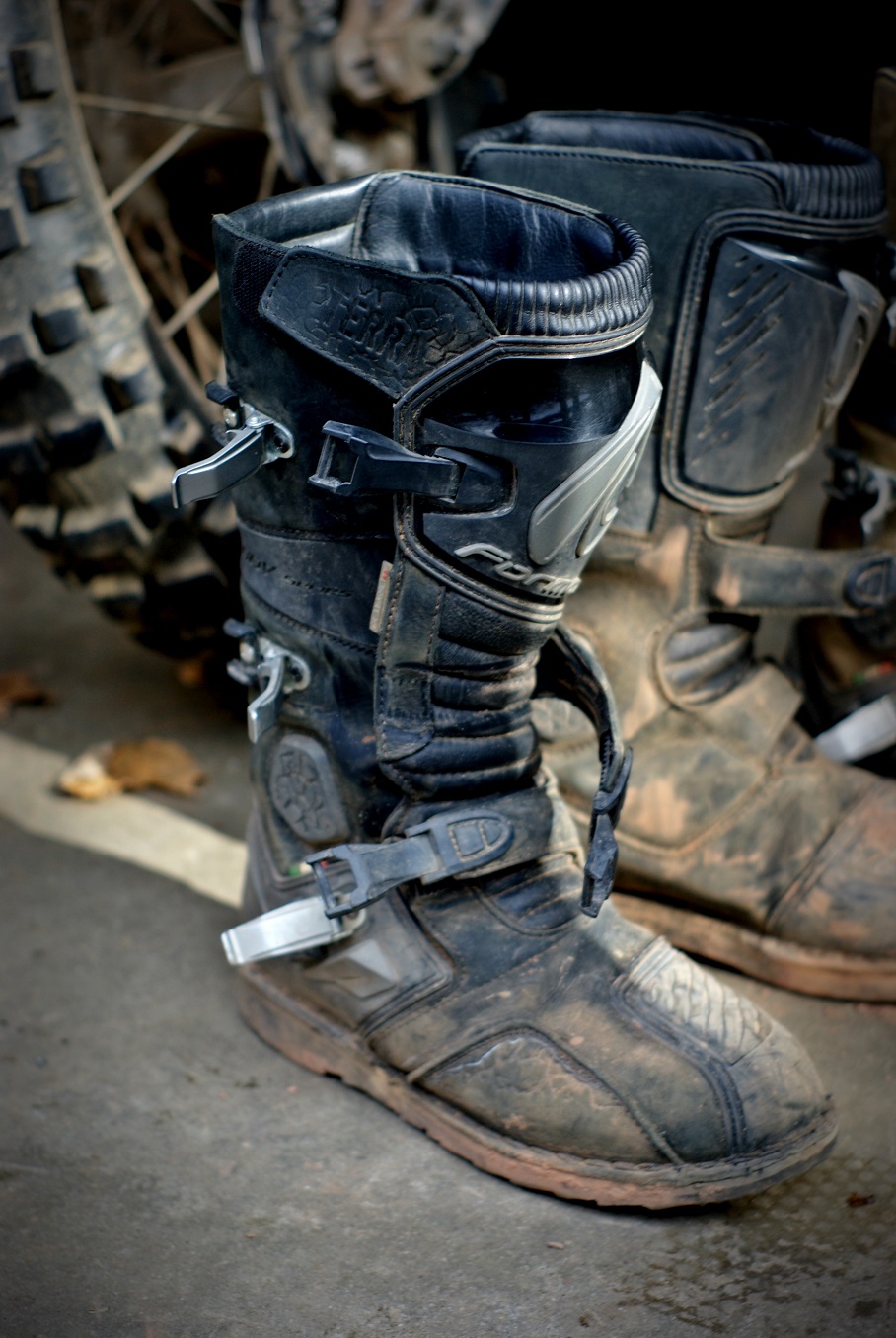 Obviously, a good fit is important, and we wanted something that was fairly high end, without being absurdly expensive.  With all these factors in mind, our choice for comfortably protecting our feet in the long and diverse hours we spend in our boots is the Forma Terra
adventure touring boot.
A cool nine hundred dollars or so later and we had 3 pairs of Forma Terra boots arrive.
Anyhow, on to the boot it's self. It's not a bullet proof storm trooper shell for your foot… in fact its quite the opposite. Its a leather boot. It seems to have just the right amount of protection where you need it, with out compromising the feel or the break in of the boot.
The boot breaks in very well, almost like a pair of sneakers.
It feels very good going on and does not have the restrictive feel that comes with a lot of the other protective boots out there. I've tried using leather road riding boots, work boots, high top hikers and all sorts of other irresponsible choices, because I was afraid of the restrictive plastic ski boot type feel of motocross boots. These Forma Terra boots were a game changer for me and I will try to outline the highlights and inevitable low lights that this boot offers.
Fit comes first.
I wear a 10.5 usually in US men's shoes, and I ordered a 44 which fits my foot perfectly. I can say, that being the skinny scrap that I am, the calf fit is a bit too big. With the top Velcro strap all the way tight, I can still fit a finger between my leg and the boot top. The other guys didn't have this problem, so maybe I just need to go to the gym or something. I have no problems with heel lifting or and toe box cramming that Ive experienced in some other boots. I try to be as objective as I can here, but obviously everyone's feet are different. I tend to think that I have a fairly normal width foot with an average arch and typically a 10.5 US mens size fits me well. So take that for what its worth. Most importantly for me is that I can be protected while I ride and hop
I have tested the waterproofing of these boots and I can say that I am impressed.
I have been able to get my foot wet in this boot, but we are talking up to the knee, river crossing gone wrong scenarios. I wear an over the boot adventure pant which is perfectly matched for this boot, and I usually always have bone dry feet, river crossings and all. Now that I rack my brain, I think all of us wear OTB pants pretty much all the time. So whether its Icon
, Alpinestars, Klim
, or any other brand of pant the guys and I wear, this boot never gets in the way.
The buckles work well, are durable, and sit well so that they don't hang up on anything. The waterproofing works to the limits of the boot height, and you can't ask for much more than that.
The next thing we have to think about is obviously the protection offered.
That's the reason we don't go adventure riding in sneakers. The Forma Terra
boots offer a considerable amount of protection, but there is a reason they don't fit and wear like motocross boots. They are leather boots, and for the most part, the protection they have is in the form of soft padding where it counts.
The ankle is guarded but don't be mistaken, there is not full protection from a serious twist, which is a very real vulnerability. The shin has a thick plastic guard and I can't imagine needing more protection than it offers.
We have all taken these boots on international adventures and beaten them up in our back yards. I think we collectively have to really think hard to come up with a list of cons or problems.
One last thing that was noticed mostly by Steve, who has the most miles on his boot, was that they get a little "floppy" over time. Like I mentioned before, they are a leather boot, and with time and wear they get softer. His boots are actually to the point where they do not stand straight up anymore on their own. Mine aren't there yet and I have plenty of miles on them… I suppose everything has a lifespan and they will wear out at some point. All said, as far as bang for the buck in an adventure riding boot, The Forma Terra boot is a phenomenal option. Durable, comfortable, fully waterproof, and all for right around three hundred bucks.
Thanks for reading my Forma Terra Boot Review, and Long May You Ride.
Comments