I'm happy to say that I now own a 1971 Honda CB750K.  These bikes are iconic, and to be honest, it was just a matter of time before one passed through my hands anyway. They were the first powerful, sophisticated four cylinder motorcycles on the market.
The air cooled single overhead cam motor makes 68hp, and goes wicked fast for a bike that was made the same year Dirty Harry was in theaters.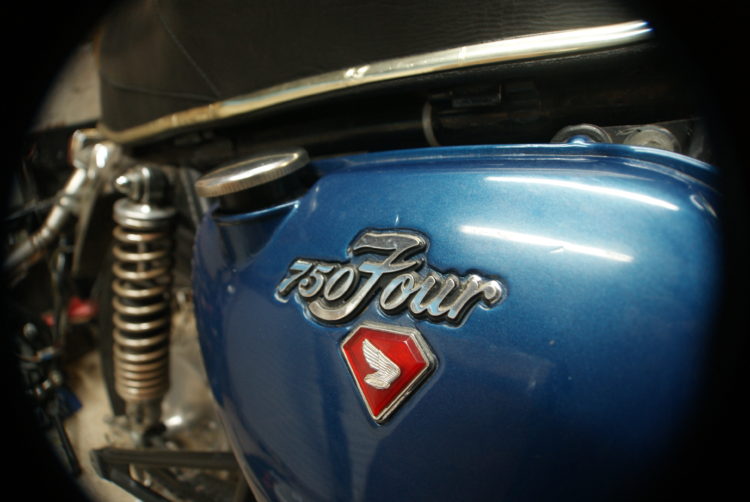 This particular bike has an interesting story. It comes from California originally, and its last registered owner (title in his name as well) was a guy named Gary Littlejohn. Gary, originally from the this side of the country, retired back on the east coast after a career in Hollywood doing stunts and other generally bad ass stuff in the 60's and 70's.
Now I'll admit I had to google this guy to find out exactly who he was, but when I saw some of the stuff associated with his name it blew me away. He was very well know for his custom tanks, he made popular the coffin style tanks and digger type bikes of the era.  He was also known for his cutting edge BMX bike frames and parts which he manufactured himself.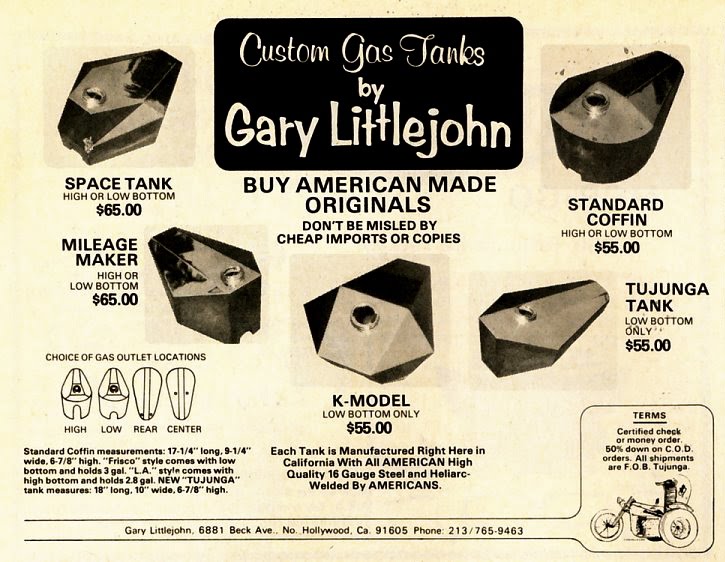 He was on the cover of chopper magazines, had multiple shops and fabrication companies, the whole nine yards… you've got to give the guy some props.
Well anyhow, the guy who I bought the bike from ended up with it because he himself is a motorcycle collector. Now I will respect this gentleman's privacy, but suffice it to say his collection was of a more exclusive nature.
He didn't have a lot of interest in keeping this bike for anything, which worked out well for me and he was a great guy. I hope I can link back up with him and do a post on his stuff, but for now we'll just say that this guy was my motorcycle collecting hero.
So the Hollywood name drop thing is kinda cool, but I really just like the way this bike is set up.
It's a total 1970s cali cruiser.
The forks are just a hair longer than stock, and there is a 16 inch Harley wheel laced to the stock Honda hub in the back. The stance is laid back and comfortable.
The paint is not original and its not perfect either but I do really like the color choice. the fork brace and headlight ears up front are subdued and sleek. Headlight bucket painted the same cool blue.
Overall it had a very cool look to it just the way I picked it up… an it also has a beautiful Kerker 4 into 1 chrome exhaust which looks and sounds awesome!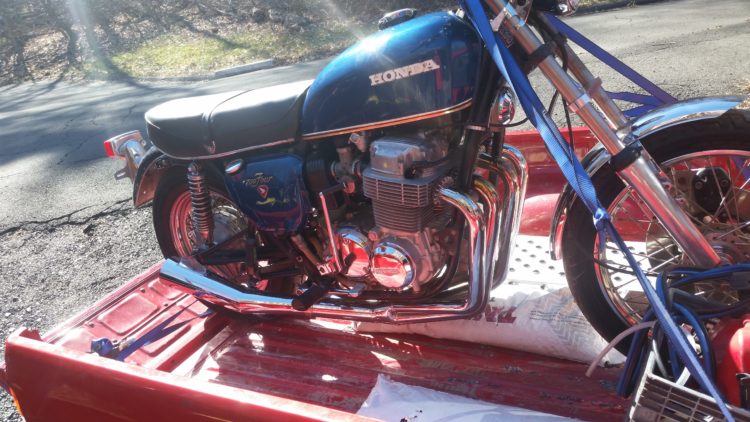 Of course I can't ever leave anything alone, so beyond some general maintenance the bike is getting a fair amount of other changes to get her ready for summer riding. I plan on packing out for some camping and other trips, so I decided a sissy bar was the way to go rather than bags.
The seat was in good shape, but I found an old seat from the era on Ebay for an awesome price and it looked like it would be much kinder to my undercarriage over the long haul.
It's a solo style saddle with a small pad behind it for my bag to sit on and strap to the gigantic sissy bar I'll obviously have to make in order fit with the 70's theme here.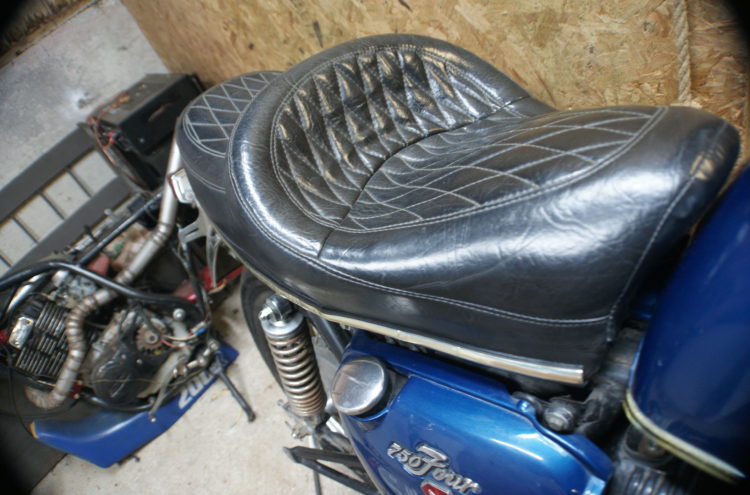 I rebuilt the front brake caliper with a new piston and seal, I changed the oil and filter, and the spark plugs have been replaced. The forks got disassembled, cleaned and new seals installed with fresh oil.
I checked the valve tappet clearances and everything checked out nicely, with .003″ exhaust and .002″ intake. Points gap is set correctly and I gave the wiring a quick once over.
I'm not entirely sure what is going to happen, but I will probably be upgrading the points ignition in some way. Either to a fully electronic unit like the Dyna or the Pamco, or for a Transistorized dual points set up from a gentleman in Colorado named "Hondaman."
The worst thing, in my opinion, about a 4 cylinder bike is the fact that there are four carbs as well.
I will say that these particular carbs were fairly easy to work with, which was a relief. I've had traumatic experiences with 4 carbs turning into 400 parts in a pile. I left the choke rods and other connections in pace and worked on all four carbs as one piece. The float bowls conveniently secure with clips rather than screws making access here easy as well.
I have learned to not jump to conclusions by buying full carb kits for these old bikes right off the rip.
While you may feel like you are freshening things up, you may be making things worse. If it ain't broke, don't fix it, right? Truth is, sometimes the kits you find online might not be exactly the same as your stock ones no matter what that trusted seller says.
Also, its just dumb to waste money on a bunch of crap you don't really need. In this case I replaced the float needles and float bowl gaskets. Thats it.
Everything else I just got really clean, blew it out with a little compressed air, and made sure not to lose anything.
I found some old bars on Ebay too that are pretty Cool. They have a little more rise and pull back which I'm thinking is just what the doctor ordered. 12″ mini ape style bars. They seemed just a bit wide, so I just shaved a little off either end and we will see how those look when I mock things up to drill them this week.
I had to order longer cables for the new bars which ended up being a pain in the ass. I guess the only option available (again, from Motion Pro) is a ten inch extended length. I need like 6 inches… tops. Oh well.
I'm super stoked to keep customizing this 70's cruiser and I'd love to hear any ideas you have too. Please, feel free to comment, message, send me stuff, whatever.
Check back soon!
Later,
Longmayyouride
Comments