Time for a much needed update on Long May You Ride!
Lots of awesome stuff has been going on and I have been changing and updating the website a bit as well. I've gotten some great feedback from friends and strangers the last several months on the blog so far, what they are liking, and of course if they think anything sucks.
I always appreciate feedback.
So, this is why I added a contact tab here on the site, and of course you can always get in touch on social media. Conveniently this is also updated. So, if you cant find it now, then I am afraid there is no help for you.
I hope to be changing my approach a little in terms of how the site is updated. I would like to be more active and accessible as a writer, as well as informal and candid with the content. I love being able to share what I get excited about. I promise I will never post anything that I don't think is worth someones time.
My workshop situation has changed.
I am no longer in the awesome work space I had with my friend in Oxford. The place sold and we all move on. It was fun while we had it. I will be finding a new location shortly. I can't fix your bike, or your friends, friends bike at the moment.
I did move my things close by, to an old familiar barn. I'll be able to store things and do some limited tinkering which is a huge relief. Another huge relief is that Daryl and Daigle are a short trip away with their shop, and they have graciously allowed me to corrupt the establishment with a handful of motorcycles.
I am also happy to report that the old 72 CB350 started first crank after sitting for the winter, so I am not without wheels!
Starting with the Kz550, a quick shop update.
The Kawasaki Kz550 cafe project has been chipped away at. The 4 into 1 pipes were refinished nicely and mounted well with some spacers from my friend and reliable parts hoarder, Kendrick. With that sorted out, I just had the throttle cable problems still.
I ended up finding a part number for a set of throttle cables that were about 5″ shorter than stock.
I used the same cable push and pull. Its available from Motion Pro. Theres no more binding and the throttle returns nicely.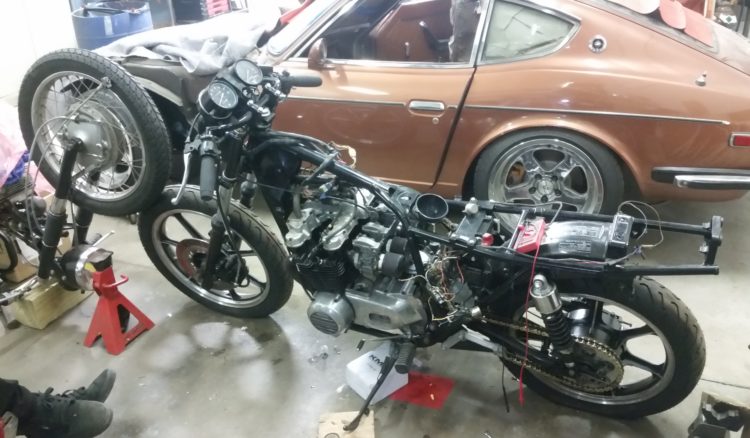 I also had to solder together some of the wiring "edits" that I made and patch up the harness. I used black shrink wrap around the wires, and was able to tuck the harness nicely behind where the side covers will fit.
The bike starts and idles nice, the carbs still need to be synched. This rain needs to let up so maybe I can spray some clear coat on this thing and finish it up!
The 1971 CB750 I picked up is checking out nicely.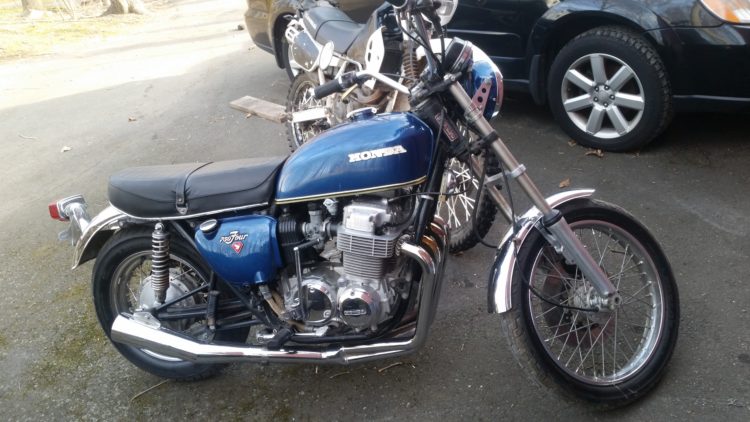 I am making some changes and checking over all of the components on the 750 to see that its in tip top shape for a summer road tripper. The front brake needed a rebuild, a little love for the carburetors, new fluids, and a handful of other doodads and this girl (still un-named) is damn close to being on the road.
Check out the up coming post for more pictures. This is such a cool bike with a really interesting history. It definitely deserves its own post, but here are some sneak peeks at the blue beast.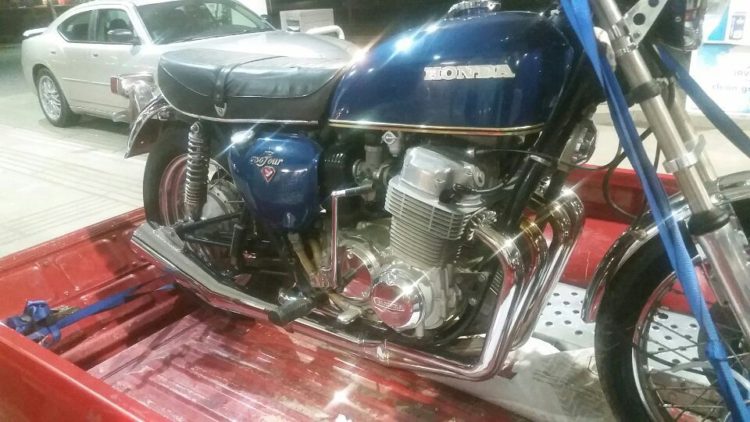 Dirk is up to no good, and it's awesome.
The day I brought home the 750, Daryl (Who we call Dirk if you haven't followed) decided to drag out his old, weathered CB500Four and start in on it. I thought it was a 72, at least thats what I remember from when we went and picked it up in New York state a year or more earlier. Anyhow, because of the sweet orange paint and some other stuff the internet says, we decided its actually a 1973.
This was purchased for a few hundred bucks and needs, what I like to call, "a quick everything."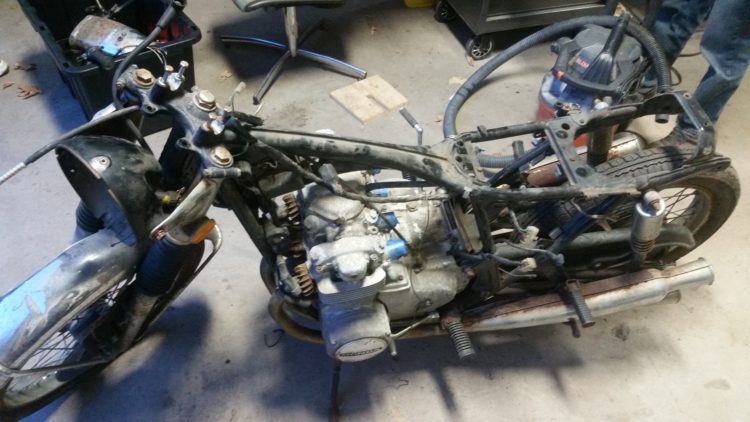 Well, Dirk decided that this CB was so far gone that the only choice he had was to continue on it's path of destruction.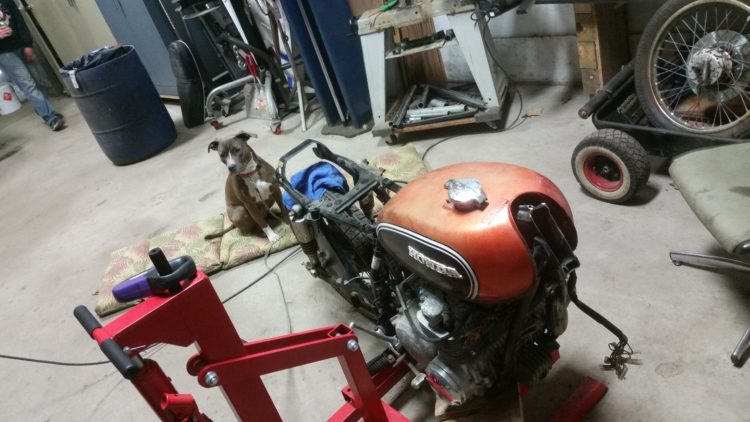 He decided to cut it up.
This thing is going to have that super bad, raked out look.
We are talking pure 1970's chopper.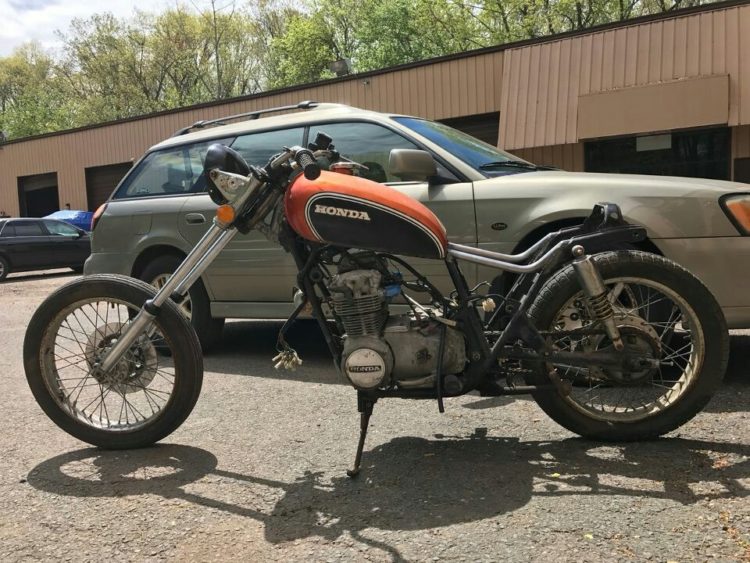 He did all the frame modifications by welding in steel tubing. You see, besides years of dealing with tubing on oil rigs, Dirk also builds roll cages for race cars. Yep, he knows his tubing. This is probably a good time for a "don't try this at home."
Obviously you'll want to stay tuned for upcoming posts on this monster.
Thats about all for the shop update. We are working everyday so look for updates soon. Also we will be sharing some details about our upcoming summer road trips in the coming weeks. Thanks for checking us out, and Long May You Ride!
Comments