I've posted a few pictures of the 1971 CB750 I picked up this spring on the site and on instagram. I have been going through it piece by piece because the bike had not been on the road in quite a while. The old Honda has a pretty cool story though, and you can check that out HERE.
Since I last updated on the status, I have buttoned up just about everything else I wanted to take care of. The front brake line was a little bit of a mess still, and I had to do some carb tuning.
I got a local company by the shop to make me a stainless braided front brake line to fit. It worked out well and Dirk got one for the chopper too.
It's a lot of work dialing in a four cylinder bike to run just right. Especially if the bike has after market parts. Each cylinder has its own carburetor and they all need to work together to deliver air and fuel smoothly and proportionately to the motor. I am certainly not an expert at it but I used what I do know to make myself a carburetor vacuum synchronizer, or manometer.
The tubes connect to each carb just before the intake manifold, and the liquid in the meter displays all four vacuum levels relative to each other.
I had a little trouble picking the right liquid for my setup. I started with auto transmission fluid which is an oil and slightly lighter than water and it was too sensitive for the size of my tool. I ended up using glycol, which is slightly heavier than water, making the tool just a bit less sensitive so I was able to tune the carbs.
Lots of different ways to do this. I dont necessarily suggest the way I did it… others do. I suppose it did work pretty well, but takes a good bit of patience and I will definitely do somethings differently next time.
Check out the Facebook page for a quick video with the tool on the bike and running.
Next on the to-do list was my sissy bar.
I already mentioned that I was planing on making a really big sissy bar for this thing. Obviously because it looks awesome, but also because I want to strap a bunch of stuff to it.
So I opted for round bar over tubing or square stock. I used 1/2″ steel and made the same small bend on the end of two 36″ pieces. I set up with some wood blocks to make the shape with the point turned back and tacked it up.
I wanted the sissy bar to be super strong and take some abuse, but I also wanted it to be easily removable.
So next, I made two brackets that can bolt to the rear of the frame and also attach at the shock mount. After cleaning up the brackets and bolting them in place I clamped on the bar, positioned it where I liked the way it looked and welded it up.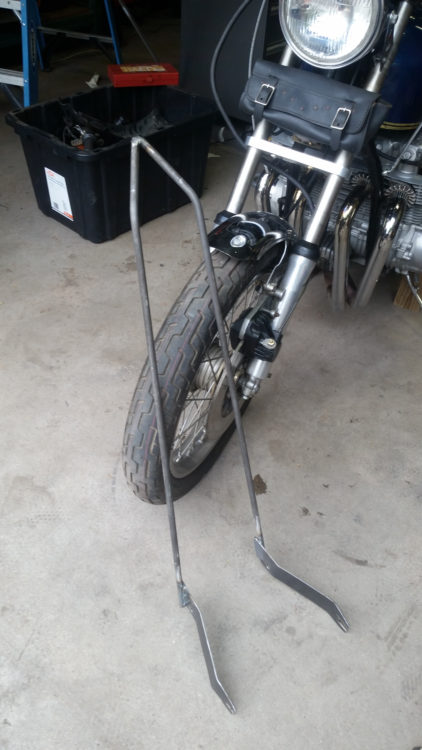 I should have plenty of room on the back of of that big old seat for all of the gear I need.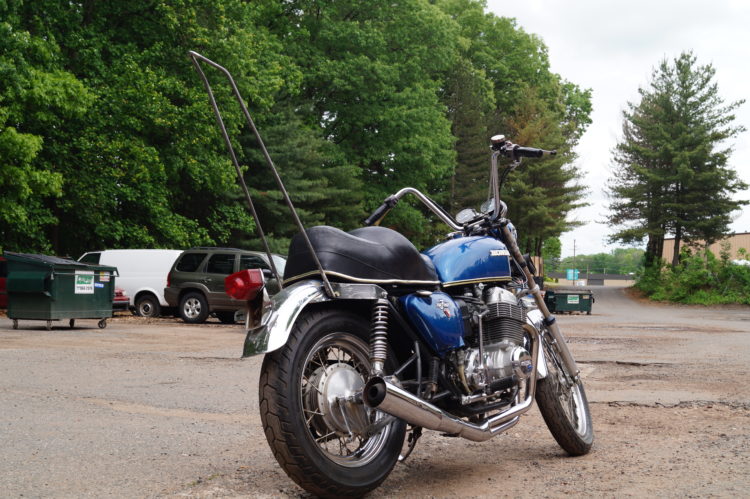 One other thing I had been considering was an electronic ignition, but as I also mentioned, is that I decided to go with "hondaman" unit which simply uses transistors to trigger the coils and eliminates wear on the points from arching. It should be a "set it and forget it" type unit, so fingers are crossed.
I received my unit and was impressed by the look. Seems to be high quality and included clear instructions and a wiring diagram. The install of the actual Hondaman ignition takes almost no time.
I did clean up my points with a very fine grit, check my gaps, and do another static timing test as well.
With all of this stuff squared away, I finally had time for DMV round-one. I've also been able to put some gear together and start actually packing for this trip. I love gear of all kinds, motorcycle stuff camping stuff, whatever. There's nothing like some good functional gear, and I've been trying to put together an efficient combination of what I have.
I got a plate on the bike and went for a test ride yesterday and it was awesome! The bike is a blast to ride, it runs smooth, and it's crazy comfortable.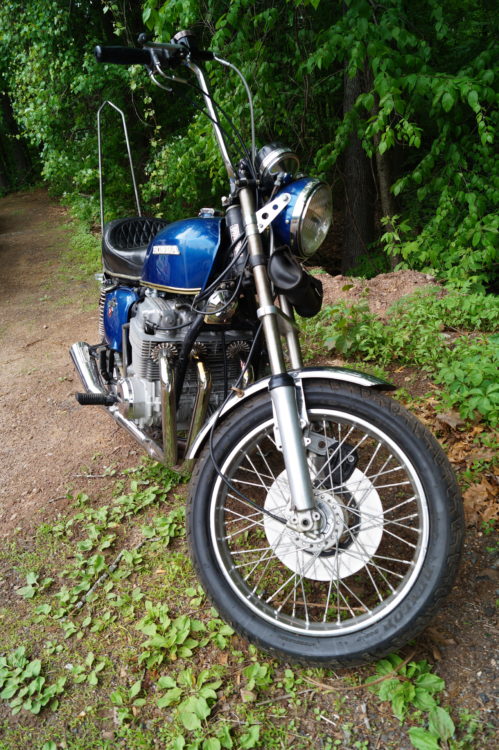 I'm excited to get some miles on it and see how it does. I've got new tires to throw on, which just showed up here as well. Crossing things off the list one at a time! As always, thanks for following along and feel free to get in touch!
LMYR
Comments