Our vintage Honda road trip has been going awesome!
We rode Skyline Drive to its end, and then began our journey down the famous Blue Ridge Parkway.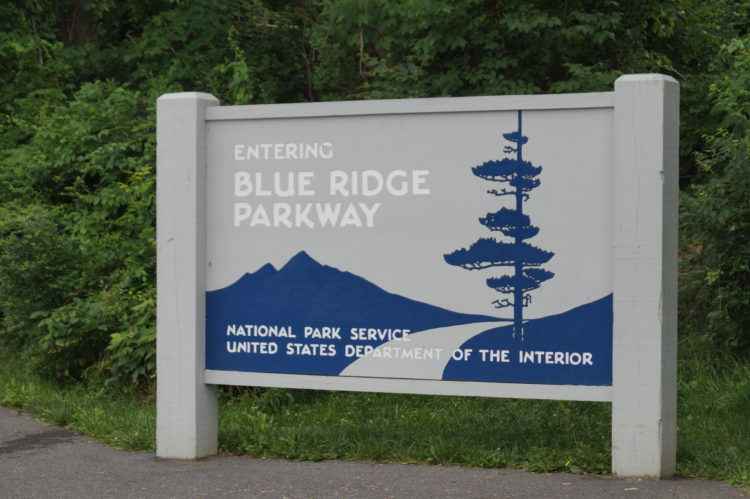 The Blue Ridge Parkway is 469 miles and starts in Shenandoah National Park, continuing to the Great Smoky Mountains National Park.
This beautiful route was first established in the summer of 1936, which makes it the first roadway built for recreational driving and sight seeing. The parkway winds effortlessly through the mountains of Virginia and North Carolina. With elevations reaching over 6000 feet and spanning 5 mountain ranges, the Blue Ridge Parkway is the longest and highest route in southern Appalachia.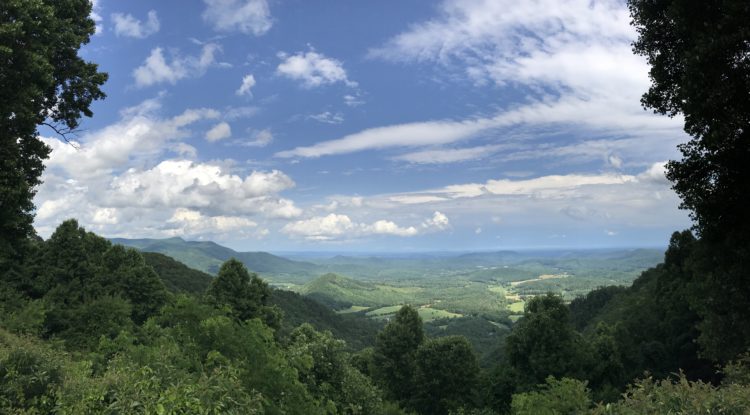 Along the parkway there are look out points and pull-offs for motorists to take in the amazing scenery. The beginning of the parkway seemed very similar to much of Skyline Drive. However thats is certainly not bad thing at all! There are are breathtaking views to the east and west along the ridge line of wooded mountain ranges.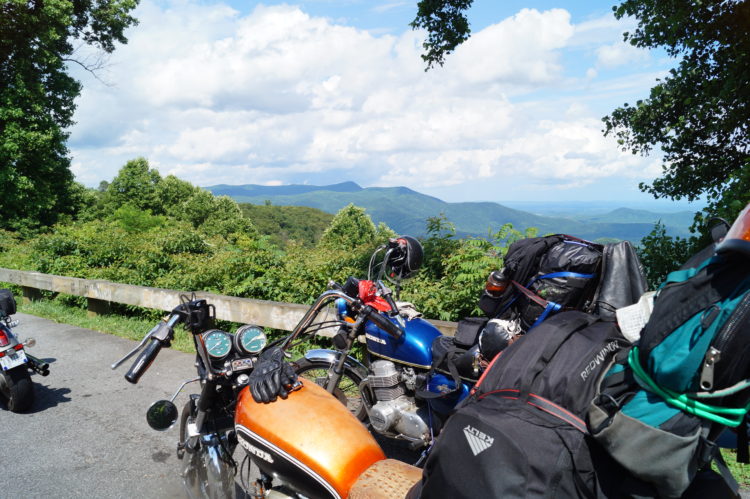 Its best to take it easy as you ride this two lane mountain road. Especially on weekends, there are plenty of people taking photos and standing along the roadside.
This route is all about the views, so if you are trying to ride fast or test your skills in the twisties, this may not be the route for you.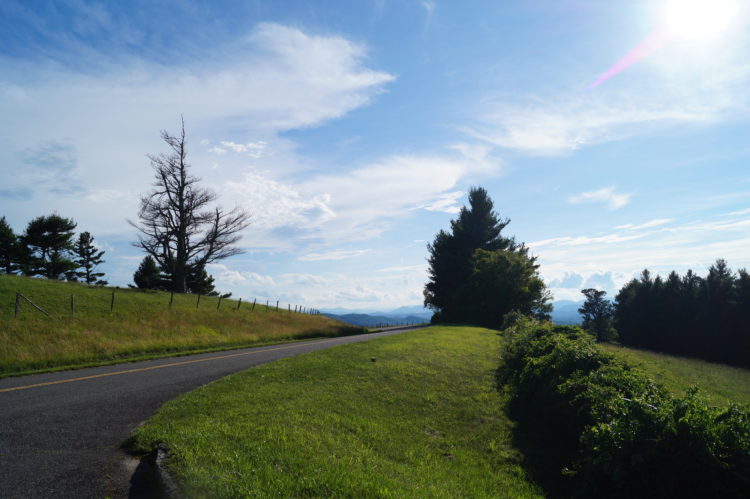 Its not all mountain riding on the Blue Ridge Parkway though. There are also serene stretches of rural farm land and pastures. However, the speed limit doesn't exceed 45mph and you are guaranteed to see some cops keeping would-be speeders in check. So, consider yourself warned.
If you do find yourself on the Blue Ridge Parkway, I doubt you'll have any objection to taking it slow. I had to start limiting the number of stops I was making because there is just so much to take in!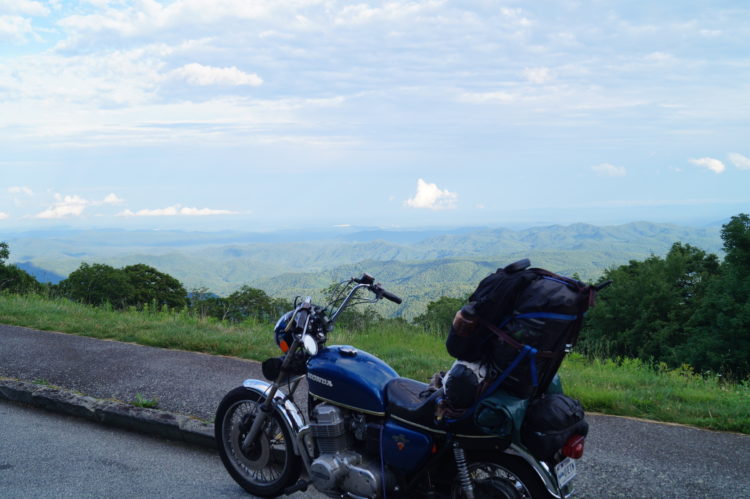 There are loads of motorcyclists all along the entire Blue Ridge parkway. From cruisers to sport bikes, dualsports to trikes, you will see every type of motorcyclist you can think of. I tend to get pretty excited with all those bikes around so, I had a blast meeting and talking with lots of riders along the way.
Dirk and I weren't the only ones out there on our vintage bikes either.
Although I didn't get a close up look, we passed a group of guys on BMW's that all looked to be pre-1970. One even had an old sidecar.We ran into a dude on a sweet Shovelhead after stopping at a quite vista to take some photos. I was totally digging it, and he was nice enough to let me take some photos.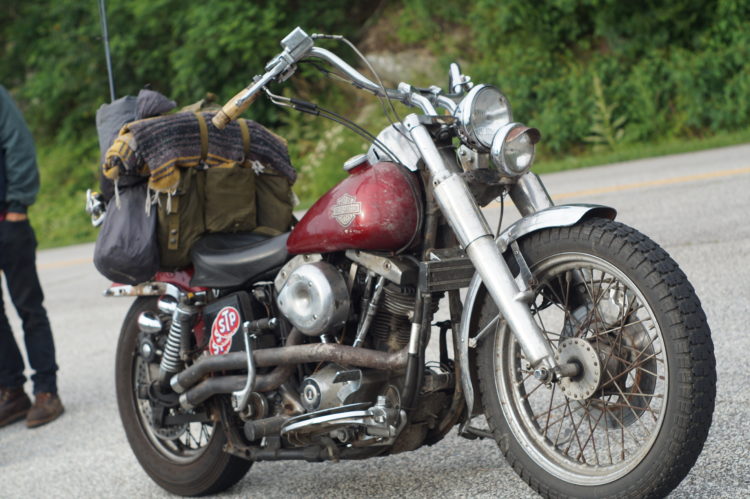 Just like on Skyline Drive, the Blue Ridge Parkway has campgrounds along the way run by the park service. We stayed at one called Otter Creek (not that Otter Creek, you beer nerds!) and set up camp before some rain rolled through that first night.
Otter Creek is in Virginia along the James River. It is also the lowest elevation of the entire Blue Ridge Parkway at around 700 ft above sea level. It ended up pouring that night. The next day we were up early with out much sleep and trying to dry out before we hit the road. Soon after, the sun poked through the clouds and we had a beautiful day to ride.
There are also opportunities along the way to jump off the parkway into small towns for a bite to eat and some fuel. We had a sandwich at an old way point which was actually a restaurant, general store, gas station, and motel in one!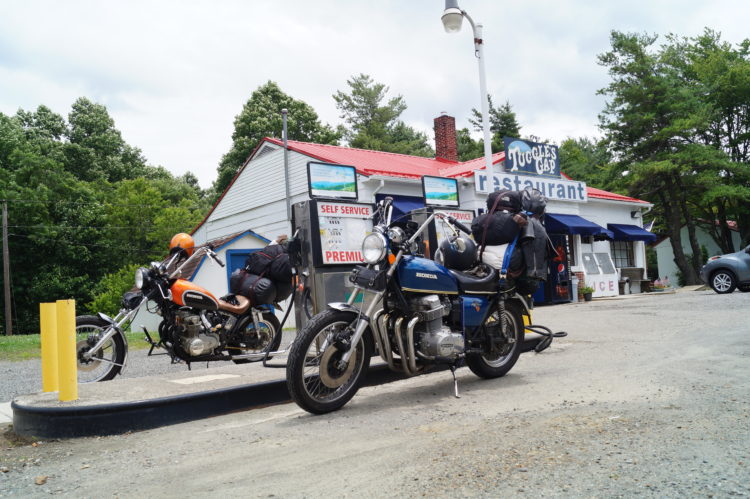 The views became the most impressive just after we crossed the state line into North Carolina.
This section of the Blue Ridge Parkway just blew me away. The Smoky Mountains begin to show their grandeur and the road itself begins to take on a different feel. The elevation increases quickly and the turns are a lot of fun. In some places the roadway seems to suspend its self on the steep mountainsides, almost as if its floating. Truly a fantastic feat of engineering and design.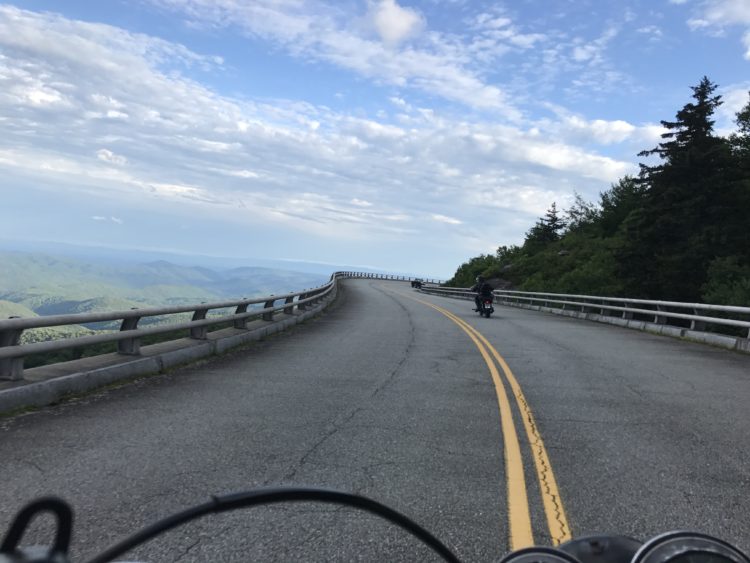 We thought about ending our day a bit early and setting up camp in the afternoon. We stopped and looked over a map, then decided to push on instead. I think we were just having too much fun honestly!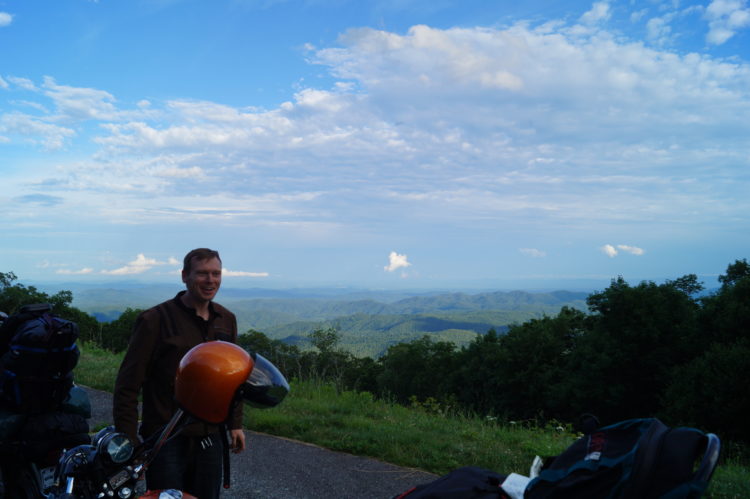 There's a feeling of suspense and anticipation as you round each turn, each revealing a view more impressive than the last.
The plan was to take the parkway all the way to the city of Asheville, NC. We probably should have split that last leg of the Parkway to really enjoy it all. However, the sun began to get low on the horizon and the sky took on shades of pink, purple, and orange. It was too good to be true!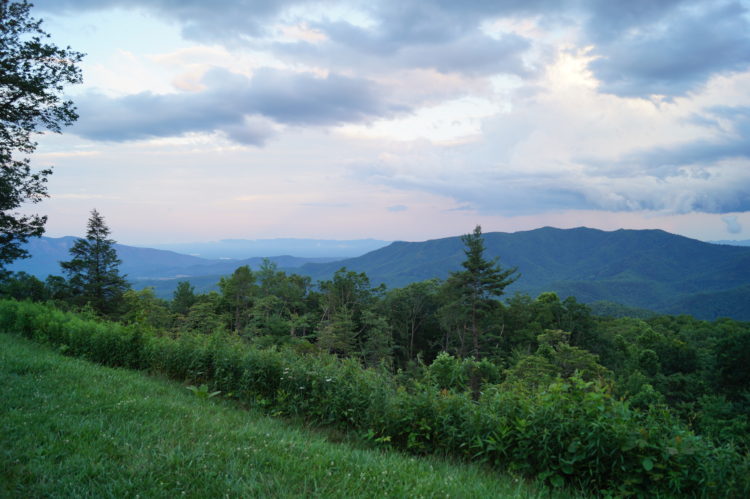 The sunset on the Blue Ridge Parkway is one that rivals any I have seen in my life.
Unfortunately, the inevitable part of watching the sunset on the road is that nightfall is just minutes away. There are no street lights or other vehicles along the parkway that time of night, just deer and other wildlife.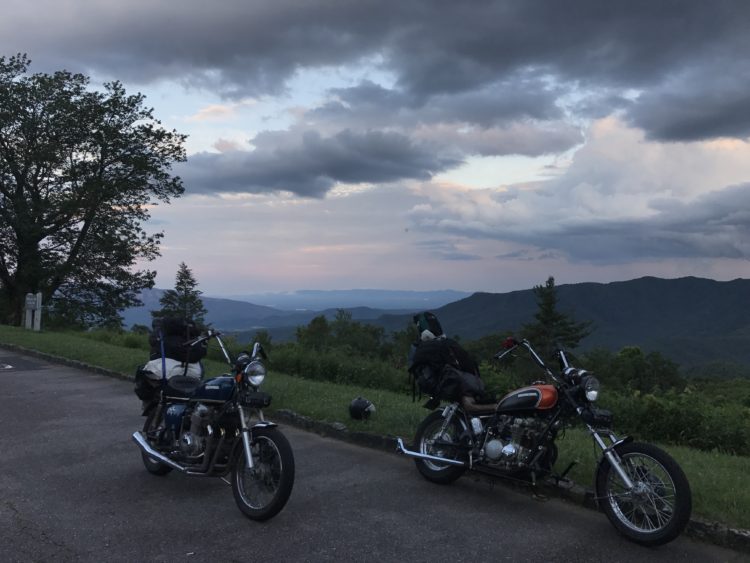 Temperatures and weather conditions in the mountains can change very quickly as well. As the sun dropped below the horizon, the temperature dropped too. Fast. It was totally dark by about 9pm and a thick fog set in on the road.
It was chilly, difficult to see, and pitch black. My old 750 doesn't exactly have an HID headlight either. If I'm not careful I can easily out ride the amount of light I have in these conditions. On top of all this, the temperature change was also making my breath fog my face shield. I had to ride slow. Very slow. 
It was a good lesson in planning for us. Eager to cover ground and take in all the beauty the parkway offers, we neglected to consider some of the variables involved with pushing on past that last campground.
While navigating through the night, we actually rode right past Asheville by mistake. We had to turn around and backtrack almost 20 miles, arriving in Asheville after 11pm. We also had no accommodations lined up. It didn't take long to realize that the motels in Asheville are twice the price of the ones we had encountered almost everywhere else.
We found a place on Google that had a seemingly fair price for the area on the west end of town. It took us another 20 minutes to ride there. Finally we got a room at what turned out to be the worst motel I have ever stayed at, and I've seen some real dumps in my day.
All in all it was an absolutely amazing experience, but next time I think I may take a little more time to absorb it all. I'm okay with that because I already know that this is a road that I will be visiting again!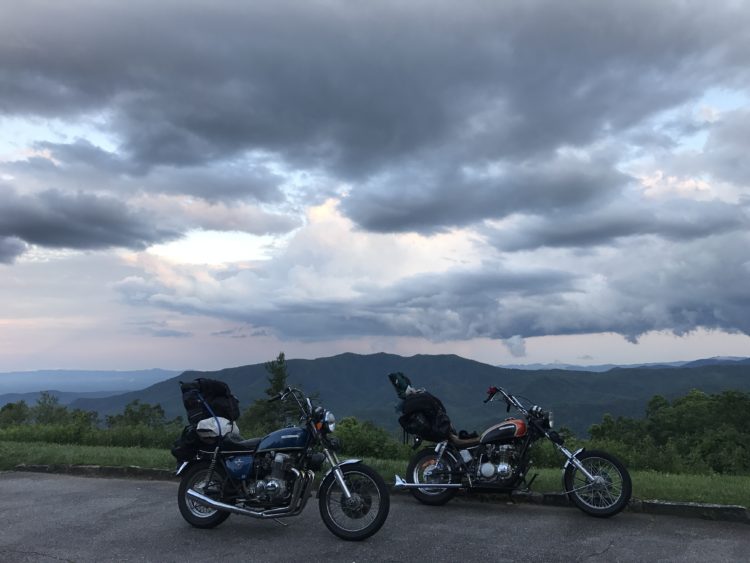 I highly recommend putting the Blue Ride Parkway on your list of must-see places in the US.
Check out the video below to see for yourself!

Thanks for following along! Let us know if there's anything you'd like to know about our trip, or if you have questions about planning your own! Make sure to find us on FB and IG!
-LMYR
Comments